I had a project last semester with at least 3 three presentations required in the developing procedure. Basically, one or two people from each team needed to present their ideas, how the development went, and what the next steps were.
After the first presentation, our professor gave us great feedback each team's performance. I was not a presenter at that time, but I had some thoughts for every team also. My professor's feedback/notes below would be a great note for me to improve my presentation in the future:
1. Make sure the types of the presentation: Technical? Management? Sales? Different presentation focuses!

Also, we should have a clear idea in mind: Who is your audience?
There are different types of presentations (technical, management, sales etc), our presentation techniques vary according to their types. We Computer Science (CS) people are likely to dig technical details when presenting, then it would be terrible for non-tech audience – do they know what we are talking about?:)
I attended a club event called High Tea with Yahoo, and some Yahoo employees were invited to interact with USC students. I appreciated the talk of the Yahoo HR person a lot, but not the 3 CS interns from our school: they were way too technical. When it came to their slides, they first introduced to us their life at Yahoo, and then their work as if they were presenting a research paper. It seemed that they wanted us to know every single detail about their work… Even I felt overwhelmed about their talk.
The HR person saved our lives by politely stopped the interns. She explained some Yahoo services to us via her own experience, which was pretty easy to understand. She got married in April 2010, and needed to buy a wedding dress and find a place for honey moon before then. She used My Yahoo and it gave recommendations to her under these two topics, according to her frequent searched items. That was what she wanted. After her honey moon, the recommendations changed to "How to get a healthy baby". The joke was cute, and I think it's much easier for us to understand Yahoo's technology. Therefore, when we get a topic and an audience body, we need to use different presentation skills.
2. When talking about a system design, what should be presented first? What content should the presentation include?
The rule of thumb is to talk about the problem first: what problems we are having now? What ideas we would like to use to solve them? If the audience is non-technical (e.g. clients), it's important that we avoid going into details immediately.
Take our project as an example. Our project was to create a trip record application on Android, with photographing, note-taking, and sharing functions. Our project manager did a great job in this presentation by clearly defining the problems (why we chose our topic), and talked about our ideas and solutions after that. He then did a comparison between our ideas and two existing travelling applications: we would defeat them by our great features. This is really a great approach for our presentation.
3. How to make people remember things from our presentations? Graphics, Charts and more visuals!
We almost need Powerpoint every time during our presentations, and we could think about how to make it remembered by people.
One of the teams' Powerpoint in this presentation class used hand-made anime characters and very lively style, and everyone liked how they presented! What an amazingly nice Powerpoint! Their project was to develop an application to electronically manage business cards. The two characters represented two totally different business card management ways: the one without these application got a mess on his hundreds of cards, while the other one could easily manage all cards electronically and then enjoy coffee.
I love their way to present such contrast so visually. I still remember it even though it has been half a year past since the class. The idea is just amazingly effective. We could promote this technique properly in our future presentations.
In the following presentation class, I followed this rule and used some Microsoft Powerpoint tricks to express our ideas. One of my tricks was to discuss why we used Balloons in our user interface by using a somewhat exaggerated scaling animation trick for a balloon picture (as below). I am very happy that when someone from other team told me that he still remembered it. That's about half a year also.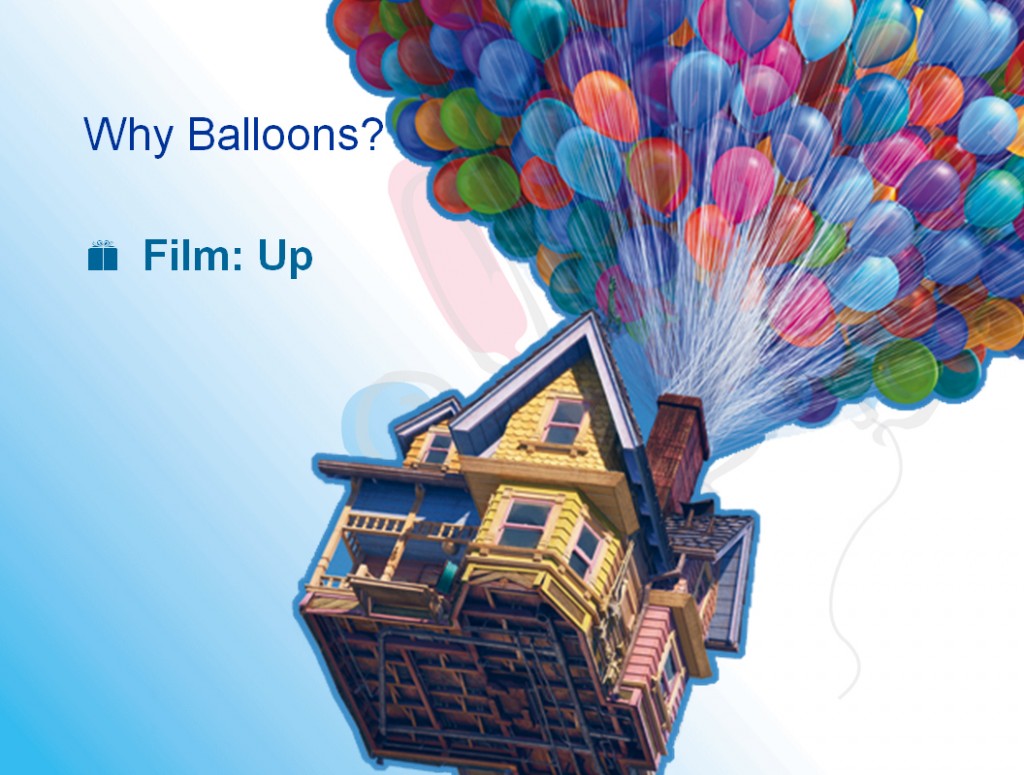 My notes (2nd part) is here. you could also reach me with any suggestion and comments:) Have a great day!