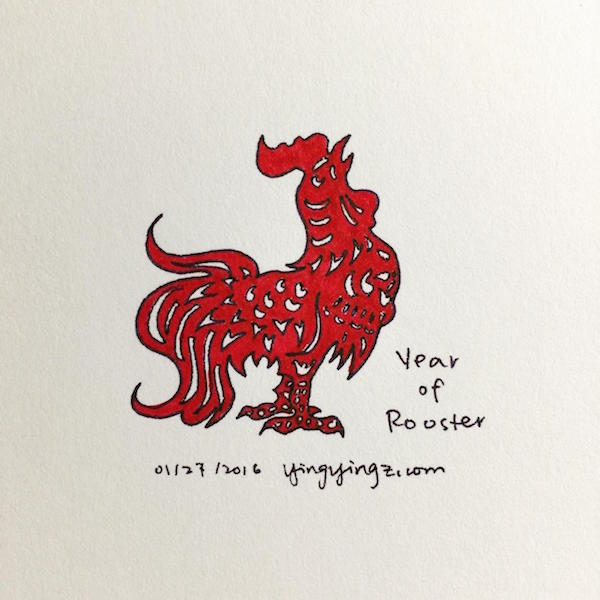 In China's time, people are stepping into the first day in the New Year of Rooster. This is a time that everyone sends wishes to others.
My closest touch with a rooster was when I was 3 or 4 years old. One day, I was playing with my buddies in front of the residential buildings. One of my friends was running towards us, shouting "a big rooster is coming to us!" We all started running around. Somehow, the rooster picked my direction and started chasing me. I was running like crazy, but it was a big animal and pretty fast. I ran into the gate of a unit in a building, thinking I was safe. I didn't have time to take a break and I saw the rooster came to me. Scared, I froze as it came to me. It jumped up, almost as high as I was, and attacked my face with its peck. It was on my cheek, a bit below my right eye. Then, it left. I always remember this, even though I don't know if I left out any details.
This year, my sister will have a baby. So it will be a "Rooster baby", as we all friendly call it. I wish everything great will happen for the baby, my sister, and my family.
It's also interesting that how people sends best wishes changes over time.
When I was little, people went to relatives and friends' houses, with candies, fruits, gifts, and possibly red envelopes for kids.
When I grew older and got a cell phone, I sent most of my wishes via text messages to others. A simple gesture likes this make people happy, because they know that you think of them during the holiday time.
Today, I sent my best wishes using WeChat and a few via emails. It's funny that how digital devices have changed our lives. Older generations, including my dad and mom, are getting used to all the rooster emoji and sending money in "virtual red envelopes" with WeChat.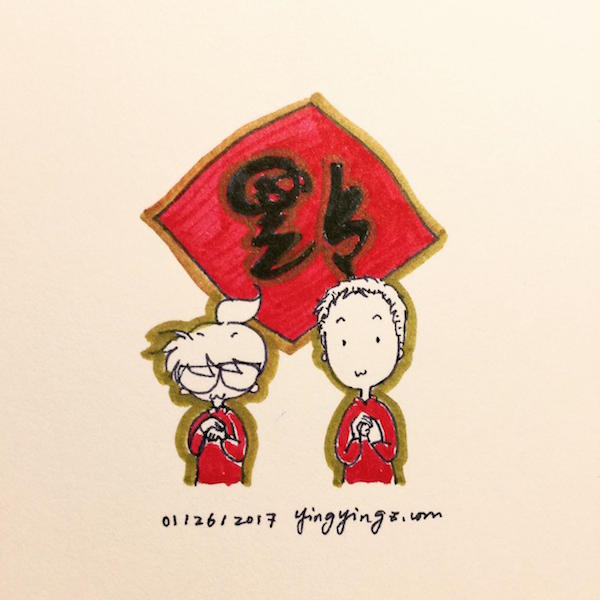 Yanbin and I wish everyone a wonderful Chinese New Year. Stay happy, safe and sound!