I got up early on April 15 — on which day national park campsites went on sale — and booked us two days in Upper Pines Campground at Yosemite National Park. So happy — reservation dates were right after Memorial Day, people were going back to work, but we were going backpacking!
This time, we got ourselves some Mountain House dried food to try out:
Overall, I think the direction signs for trailhead can be improved. We had some hard time to look for trailhead (e.g. Upper Yosemite Falls) and routes. Also, the mileage marked on the trails tended to be a bit shorter than my GPS on the phone.
Day 1: Getting to Yosemite -> Upper Yosemite Falls -> Upper Pines Campground
We set off around 8:30am, and got to Upper Pines Campground around 12:30pm. It took us nearly an hour  to arrive the campground from the western entrance (Hwy 120), such a big park!
We rested a little and went to Half Dome Village to look for food. Many people were waiting in lines, so we bought and split a huge pizza. We had to hike quite a bit to get rid of so many calories.
The free shuttle took us to stop #7, which was close to trailhead of Upper Yosemite Falls. As we were looking for our ways to the trailhead, some guy said hi to me, looking at my backpack, and said "wow serious hiker." I was so happy to hear that.
To find the trailhead: you need to go across street after the shuttle drop you off at stop #7. We didn't cross the street, so we scrambled to find the route and walked on wrong directions twice. If you are not sure, find someone and ask!
Finally, we got to the trailhead and spent about 3 hours on the trail. I felt very hot and dehydrated, and ended up drinking up all my water (2L). Luckily, my husband had a lot left, so I got to share his.
We didn't reach the top, worrying that we wouldn't be able to make it back before dark. But we did hike to a place where we can felt the water splashes. It got very chilly there — feeling so good in a hot day.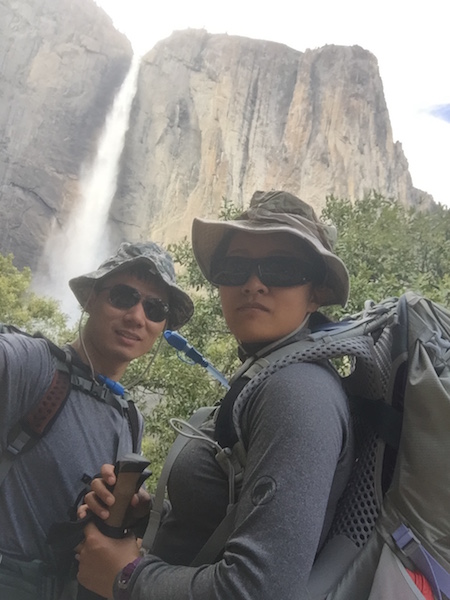 Here's a pic I snatched when we were far from the falls, so pretty. It's like the clouds go down in the waterfalls.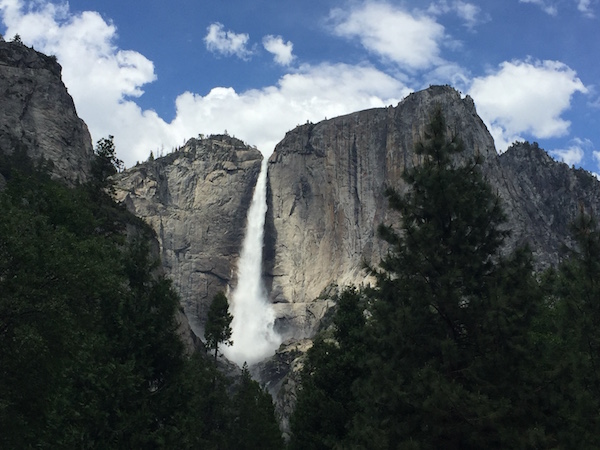 After that, we got back to our campsite, pitched tent and all that. We stored all scented items inside the storage box, also got all bottle waters to the trunk (bears may recognize them as containers), but still worried a bit about bears. We slept very well and no bears seemed to show up.
Day 2: Upper Pines Campground -> Panorama Trail -> Upper Pines Campground
We got up, ate our oats breakfast, and hiked onto Happy Isles, not far from the campground. The morning breakfast and preparation took us 1 hour 20 minutes, too long in my opinion.
We were very ambitious in hiking some big miles. It ended up taking us 12 hours 23 mins, from the time we set off and came back to the campground. The hiking time was around 10.5 hours, since we stopped for rest and ate lunch.
Happy Isles -> Nevada Falls
We hiked to Happy Isles.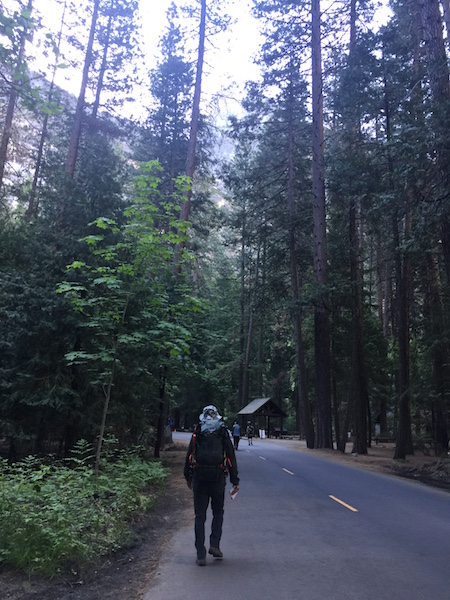 One day, we wanted to hike the John Muir Trail.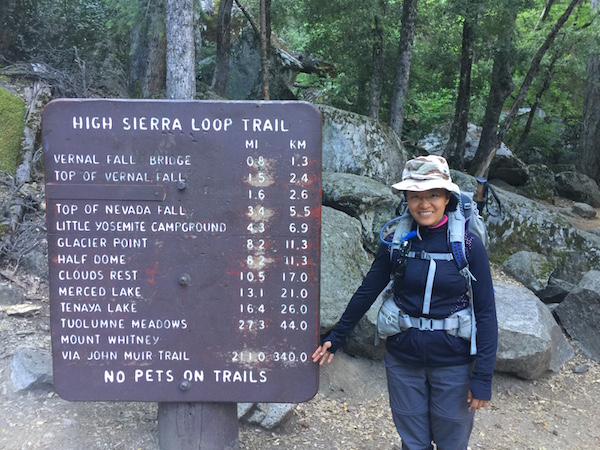 The last reliable water source and restroom were by a bridge, the foot of Vernal & Nevada Falls. Years ago, two kids were flushed away by the flooding river. This year, there was lots of snow, so the river looked very dangerous.
It took us about 2 hrs and 20 mins to hike the 3.5 miles up to Nevada Falls. On the way there was a little waterfall, probably from melting snow. We used raincoat and our tent footprint, but our pants still got pretty wet.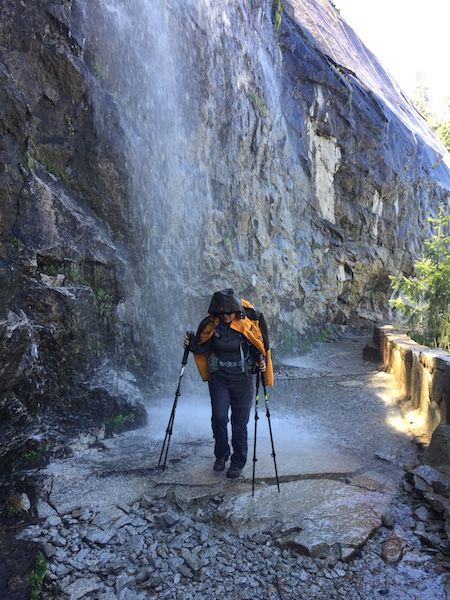 After we hiked to the top of Nevada Falls, we took a break.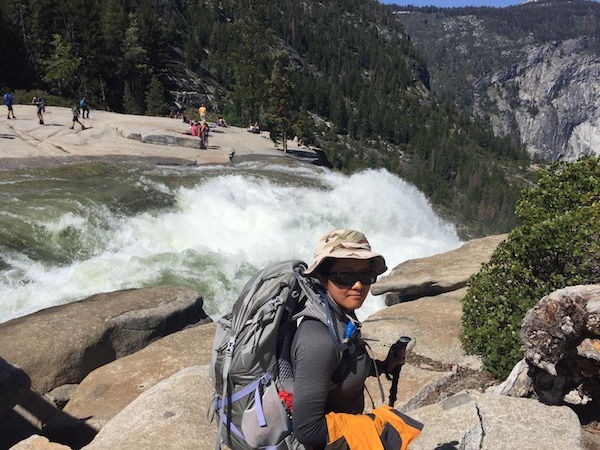 We got two small bags of snack nut mixes ready to eat, before my husband went to refill our bottles with water. I was looking far at the mountains, at which moment I felt a small dark things moving super fast away from my left side. It was a squirrel! He snatched one of our bags and ran towards a big rock. I quickly turned and tried to chase him, but he was too fast. I can only saw him hiding under the rock, tearing the bag with his teeth, holding nuts using both hands and eating.
He then left and ran somewhere else. My husband came back and I told him about this. "Maybe he went to find his family." He said.
After a short while, he came back with another squirrel, my husband was right! They were still eating as we left for our next hike.
Hmm, lessons learned: store food well while hiking in the wildness. Animals have amazing noses for food, and are so much faster than us. I captured him in a doodle.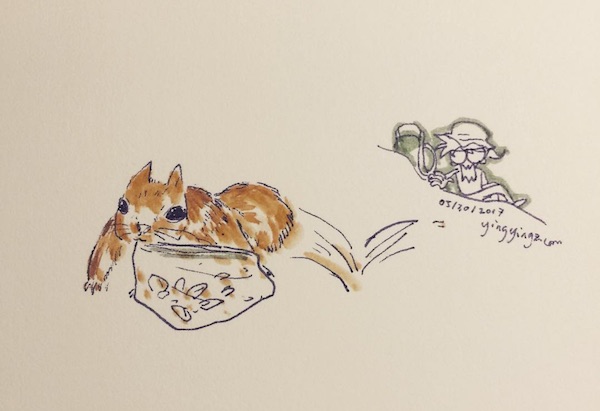 My husband got some water to filter. Then, we left for Glacier Point.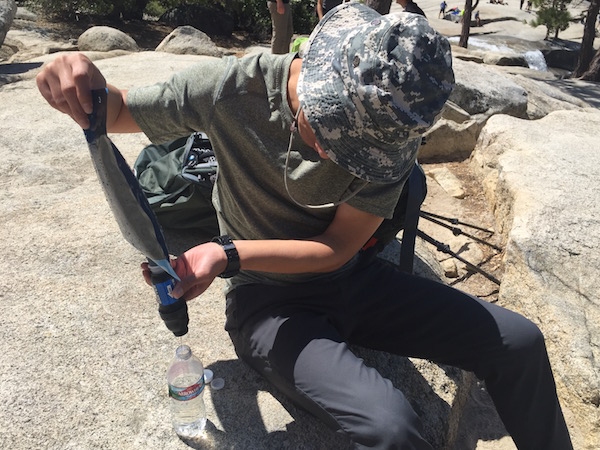 Nevada Falls -> Glacier Point
We continued our journey to Glacier Point. It was getting hotter, so we stopped for lunch.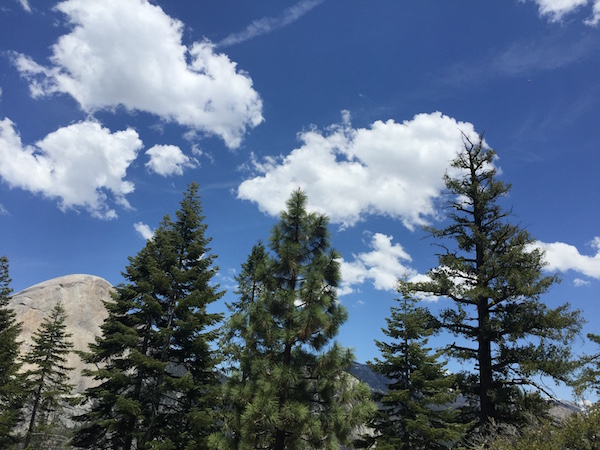 We went down a few thousand feet and up another few thousand. We were complaining to ourselves that this slowed us down. We also felt that we walked more than the marked miles.
As we hiked towards Glacier Point, we can see different angles of Half Dome. We almost hiked around it from a distance. That was very cool.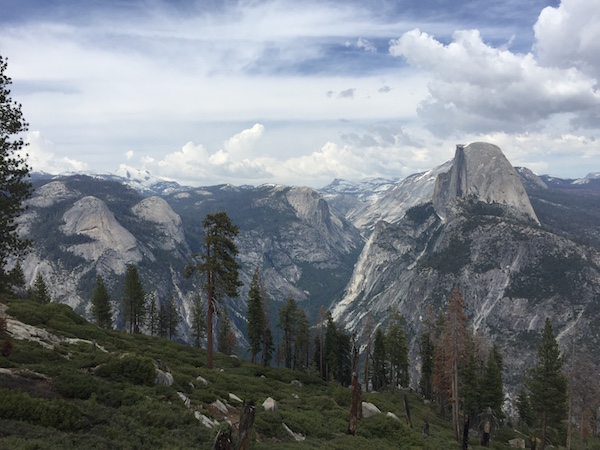 We got to Glacier Point, bought ourselves ice creams and rested our feet. They were so hurt, ugh. We didn't stay long, probably around 20-30mins, because we wanted to get back before dark. Therefore, we set off to Four Mile Trail.
Glacier Point -> Yosemite Valley via Four Mile Trail
Four Mile Trail had a 3200 feet elevation loss, so we hiked as fast as we can but still cared for our knees.
Most of the trail we were by ourselves, but we did met some people going up late, bringing no water. Not sure how they can make it in such a hot day. We hoped they can get down soon.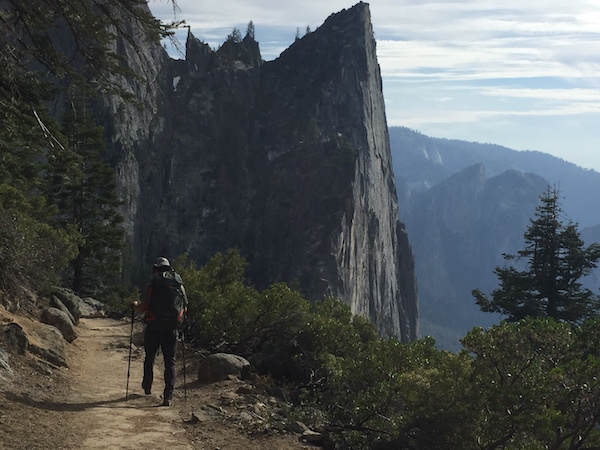 We found some snow.
Yosemite Valley -> Upper Pines Campground
We got down and wanted to cross a meadow to reach a shuttle station, only to find that the meadow was flooded and closed for crossing. We had to walk extra half an hour and find shuttle #6 that takes us back. We got back after 10pm. It was totally dark. Not a good idea to get back that late, but we had no choice.
We quickly pitched our tent, cooked dinner, ate and climbed into tent. We spilled some mac & cheese to my pants and shoes, so I changed to shorts and flip-flops, and stuffed food-contaminated clothing into storage box, hoping no bears got interested in them.
We were too tired to talk.
Day 3: Getting back home
The morning breakfast and preparation took us 1 hour, a bit shorter but still too long in my opinion.
We wrapped up our items, happily jumped into the car and drove back home. Backpacking and camping was great, but nothing beats home sweet home.
17-18 miles was very long for me, I was still recovering from the knee tiredness and a bit of pain a week later. My feet seemed to get some blisters (even though I didn't feel it at all).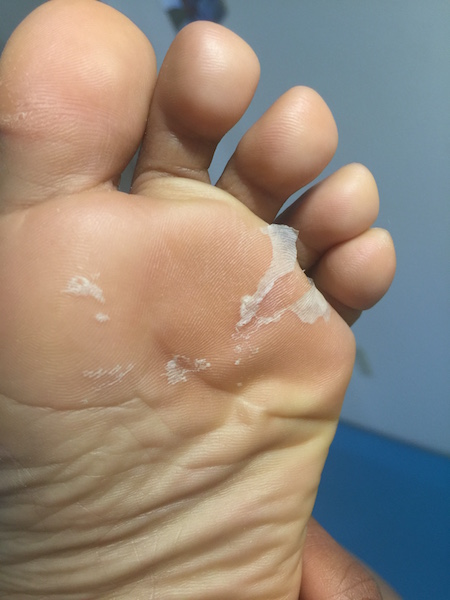 About Upper Pines Campground:
A huge campground with really good Campground and facilities (e.g. flush toilets and food storage). It was right under Half Dome and we had a stunning view.