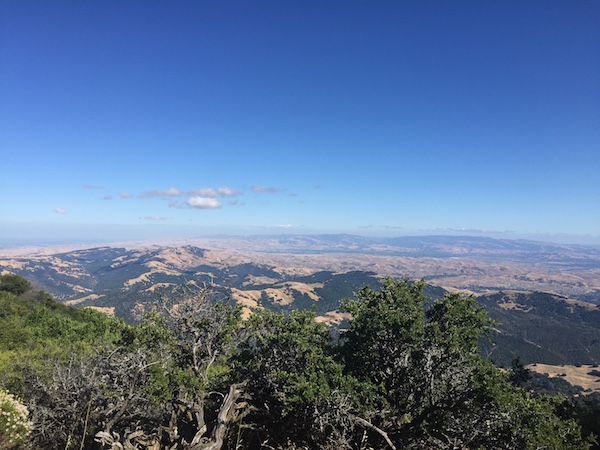 We did an overnight car camping at the Mt. Diablo State Park.
We arrived a little before 4pm at the park's north gate and took another 0.5 hour to drive to Juniper Campground.
We drove across the campground to find one that we'd like to spend the night. The Juniper Campground is on a first come, first serve basis, even with reservations. If you come early, you can snatch some really good, quiet camp sites.
We took campsite 27, which was great, since it was really close to the restroom facilities. We initially worried whether it would be noisy at night, like, people coming by to the restrooms, but the convenience won.
We parked our car there to occupy the spot, spending the next 1.5 hours hiking to the top of Mt. Diablo and back. It was about 3.2 miles, 1800 ft elevation gain to the summit, and same loss coming back down. It was a moderate hike, with occasional steep slopes.
As the sun began to slowly go down around 5pm, wind started blowing hard on the mountain. We tried to finish that short hiking trip fast, so we can set our camp before the sun goes down.
At the Juniper Campground, each campsite is not too far from each other. As we were setting up our tent, I heard a guy from a nearby campsite clapping and shouting, and saw some animal quickly moved on the picnic table and snatched one of their big snack bags. When it jumped off the table, I recognized it's big tail with stripes– a raccoon. I was so relieved that I had a habit that every time I got something out of the trunk, I closed it. Otherwise, a raccoon may easily get into it and got our food bag! That way, we would have no choice but go home. It's always important to remember to keep food within arm reach and keep an eye on them if they're not in the storage box.
Below is my quick sketch of the food snatcher.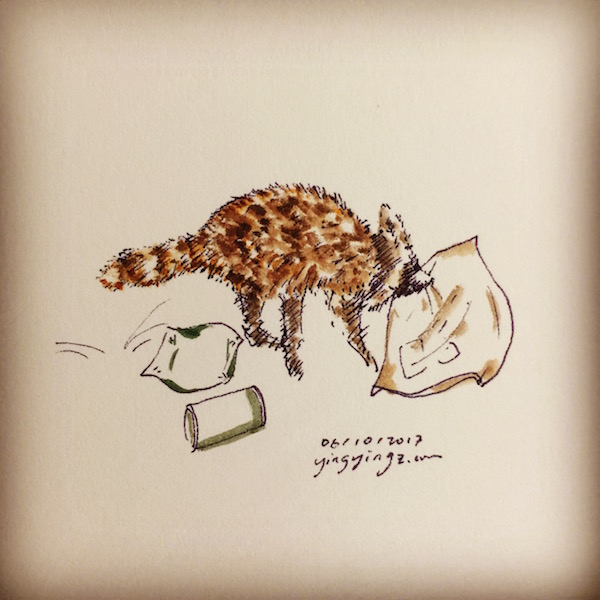 Actually, even after we pitched our tent and finished dinner, it was still very bright, yet very windy. I had my windstopper shell on top of a long sleeve shirt, but still felt chilly and wished I had one more thicker layer. We cooked our repackaged Mountain House's Chicken & Rice, and enjoyed the warm meal. I was looking around a lot during the cooking and eating, to make sure no curious animals came close.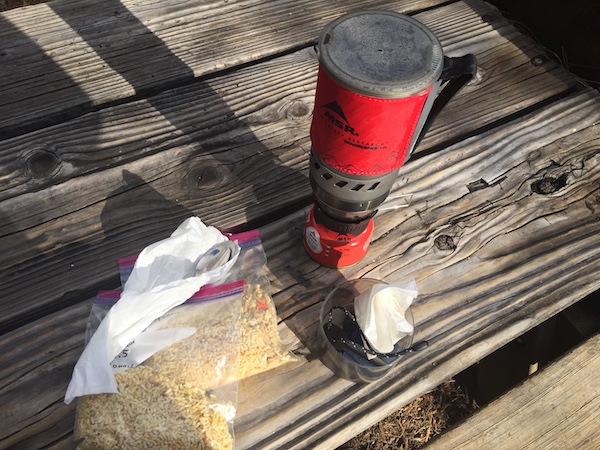 It was our first time car camping and I really appreciated having a car at that moment. We ended up going into the car (less than 20 feet away from the tent), to read our books, enjoying the warmth it collected from the sun.
Once the sun totally got down, we crawled out of the car and into our tent. The wind was howling the entire night, seeming to want to tear our tent apart. Both of us woke up several times. Sometimes I was not sure whether it was just some small animals walking by, or it was the wind.
It was definitely not a clear night. Once in a while, rain drops hit our tent. It was not like rain though, where it drops consistently. They possibly just came by the dark clouds above — the wind blew them down.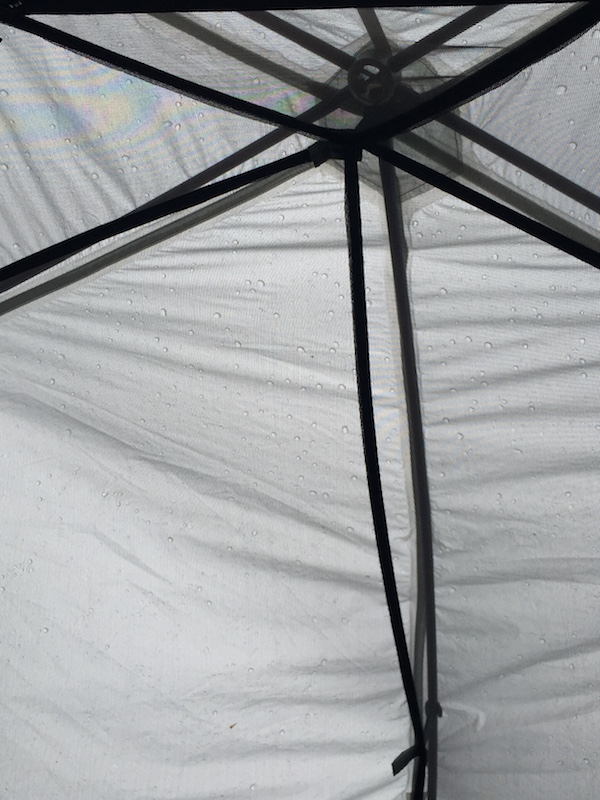 Learnings – what we can do better next time:
1. Because this was car camping, we were too relaxed and forgot to check all the items before we went. At the campsite, we could not find our tent stakes anywhere — we probably just misplaced them. We were lucky that we've found an empty fuel container on the campsite, filled it with water and used it as a stablizer. But this was a stupid mistake and should be avoided.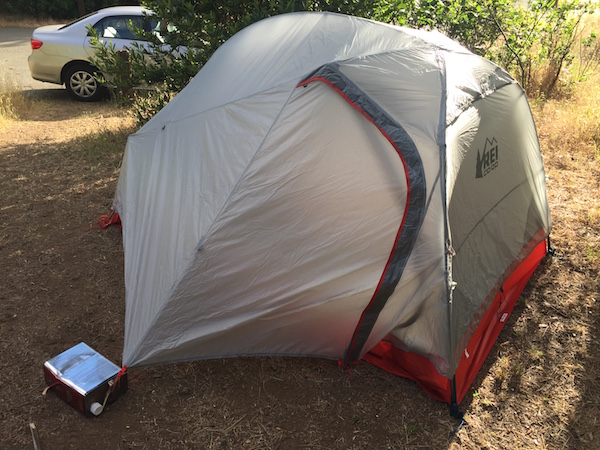 2. Put a big jar on the table to get water but ended up forgetting to grab it when I dashed out of the door. Always check things around and it's no good to be in a hurry.
3. Almost forgot to bring credit cards and some cash, or we would had less than enough gas to get all the way back.
4. Water filter. There seemed to be something floating in the water from the campsite and I wish we had brought our water filter. We used a couple of bottled water from our car stock.
About Juniper Campground:
You need to make an online reservation and that will guarantee a spot, but it works on a first come, first serve basis, so go there early if you hope to get a good spot. Check in time is 2pm, check out is 12pm.
You can reach Mt. Diablo's Juniper campground from either the North gate or South gate. It takes a good half an hour drive to the site from the north gate. The paved road leading to the campground is nicely built and yet very winding with a lot of blind corners. There are a lot of bikers. Remember to drive really slow.
The campground is overall nicely designed for car camping. Each site has at least one picnic table, a food storage box and some flat ground. We recommend bringing a lock for the food storage because I don't know if raccoons can easily open them if you don't have a lock.
There's a good-size restroom and water facility near our site, with 4 restrooms, 2 showers, tap water and drinking fountain. I was not quite sure water quality from one of the drinking fountains, so we used our bottled water.