A story of awesomeness made my day. Completely.
I met Ron at a session in the Spring Conference of ToastMasters District 57. We were sitting in the front row and chatting about random stuff about the conference and workshops. After a while, Ron was trying grab something from his pocket, and then showed me this card: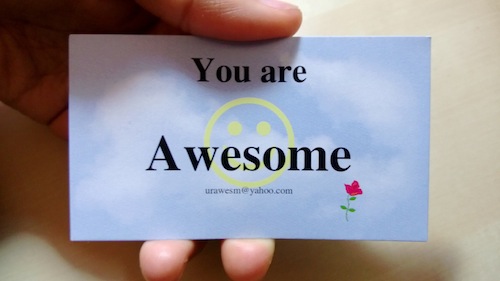 "Hey, you're awesome." Ron said.
"WOW, thank you!" I said and thought it was so kind of him to say such nice words to a random person like me.
And then, he slowly flipped the card and said, "Read this loud."
I smiled and read it out loud "I am awesome, thank you!" Amazed. I literally felt a positive flow around me.
Ron looked very happy. "Keep it, you know you are awesome! I have been sending them out for a decade."
A decade! "We can do no great things, only small things with great love." Said Mother Teresa. I am sure Ron has inspired numerous people these years, just as he inspired me today.
Ron continued running around to send out more cards to people he met. I grabbed him for a picture to keep this great memory before he's gone. Oh did I mention his great shirt and nice smile?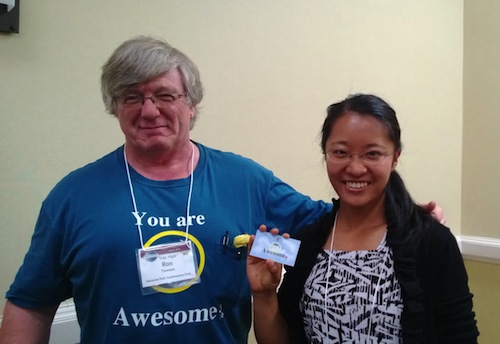 Hey Ron, if I haven't told you enough about how amazed I was at the conference, I want to let you know again. You are a treasure of this world. What you sent out was not just simply a card. It was so full of great encouragement and power of positiveness.
Read Ron's blog or send Ron an email if you have ever run into him but didn't have a chance to get in touch, or simply want to let him know that you are one of the people who would like to give others hope, remind them of their awesomeness, make them smile and spread positive energy and love to even more people.
Stay awesome, all!
* Here's my Chinese translation for The Story of Awesomeness.