Toastmasters International holds two speech contests each year: 1. International Speech Contest (spring), winners from each district would compete with the best speakers from all around the world, and the ultimate winner would be the World Champion of Public Speaking; 2. Humorous Speech Contest (fall), every district would have a District Champion.
As a newbie contestant, I had the opportunity to experience three contests: club level (1 club), area level (4 clubs), division level (14 clubs) and got 2nd place in division contest. Only the division contest winner goes to the final district stage, so I was not able to go further, but I thoroughly enjoyed this wonderful journey.
I joined Toastmasters one and a half years ago, only gave four speeches so far and never thought of participating in a contest. I was not planning to participate in this contest, either. Until the night before.
This August, I went to Toastmasters International Conference in Cincinnati, Ohio. I had so much fun and so many stories to share with fellow Toastmasters in my club, and I didn't want to wait too long. Right after I came back home, our club meeting happened to be the club-level humorous speech contest. I thought "Why not use this opportunity to tell the stories? Give it a shot, Yingying."
I was in a hurry to put my speech together, and literarily completed the transcript an hour before the contest. I used every bit of free time to get myself more familiar with the stories, even when I was driving to the meeting and right before my turn. My speech turned out great, although after I got back to the seat, I could not hold a pen still — my hands were shaking so much. It got me the first place in club contest and sent me to the next level. Surprise surprise!
I had one month between then and the next contest. What can I do? I had no idea — I never attended a contest like this! Or, just leave it as it is? No, that's not me, I had to think of a way to improve it.
I reached out to experts and friends for tips, practiced over and over again and stared at my transcript every morning when I was on the ferry.
There's one thing crystal clear in my mind: I was not working towards the trophy, I was there to share my stories and get more people know about Toastmasters International. My public speaking hero, Darren LaCroix (2001 World Champion of Public Speaking) said, the goal is to share your message, not to get the trophy. Craig Valentine (1999 World Champion of Public Speaking) said, touch lives, do not reach for the trophy; trophies are side-products of touching others' lives.
In area contest, I met Ben Parker, a very funny old gentleman. His story was so funny and his delivery was way better than mine — I was acting my story out and he was like naturally telling stories to a friend. He got the first place and I came second. Luckily, because our division has fewer areas, two people from this contest would go to the next level, and I had another contest to go.
I started worrying about this next month. I already did everything I can think of, is there any other way to improve my speech?
Then I remembered how other expert public speakers practiced their speeches in different clubs, so I decided to do the same. I immediately contacted 14 clubs for practice. Below is my practice schedule: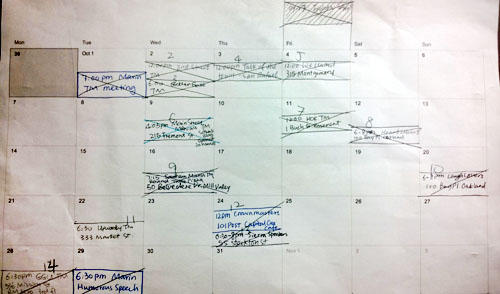 To get best results from these 14 clubs, I did the following in each club:
Video/audio recorded my speech
Handed out custom evaluation form, with questions like: How did you like my opening/ending? What made you laugh? How did you like my gestures?
I got 135 written evaluations from these clubs, improved my speech exponentially and made good friends.
The best thing I got from these clubs was "stage time". Stage time helped me eliminate my fear of the stage :) Every club did their best to accommodate me and gave me lots of great feedback. As a non-native speaker in an English-speaking country, accent and pronunciation can be barriers to make myself well understood. They provided lots of help on how I can improve it.
Thanks to so much practice, I was not nervous at all when I was on the division contest stage. I did a great job. Although getting second meant I would not go further to share my stories with a larger crowd, I had a lot of fun in this wonderful journey of learning.
Are you planning to enjoy a journey of learning like this? Give it a shot in the Toastmasters contest next spring :)