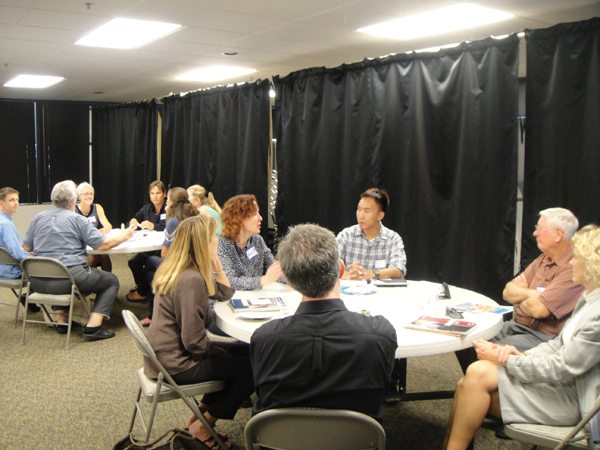 I started my term as Area Governor for Area C-9, District 57 (North/East of San Francisco, United States) in July 2014. Since then, I've noticed almost no club officers from my area went to the district training Toastmasters Leadership Institute. Several reasons: it took a Saturday and almost 2 hours' drive round trip.
My conclusion was that we needed a make-up training that's close to us, short and sweet. Therefore, I decided to organize one and told my clubs that it would happen soon.
The thing was that I've never attended an officer make-up training nor organized one. I asked around for an organizer's checklist, but no one had one, it was mostly word of mouth. It was quite nerve-racking for a couple of weeks after I made that decision.
I kept looking for guidance. Some experienced Toastmasters pointed me to right materials, training expectation and trainers/speakers I can contact. I was finally able to figure out the business little by little, formed a team and started heading on the right track.
After more than a month's hard work and preparation, my team made it! It was a wonderful night of great keynote speech, breakout training sessions, a Distinguished Club Program (DCP) skit and a rap, and 23 officers were trained — it was a blast!
I want to thank everyone that helps me to make this training happen: Anita Renzetti, Randie Ellington, Mike Cooper, Darlene Elko and many others.
Below are my take-aways from this training organization experience, as well as a checklist and sample files for you to use, if you are planning to organize one.
Know Your Business
As an organizer, you need to have a clear idea on the "What to do":
What you want to accomplish: get club officers trained
What content to cover: creating a quality club, leading clubs to success, other topics?
What is the rough training agenda? Typically it consists of keynote speeches, break out training sessions for each officer position. Other than this, are you going to follow this format or bring in something new?
Then, it's the "How to do it" — how to make it happen:
Form a team and lead them to get the work done. 
When and where is the training, and how many attendees will attend the training? You need to secure a place that's big enough for the training attendees, and easy for them to commute to. Also keep in mind that your make-up training needs to happen by the end of August (first half of Toastmasters year), and by the end of February (second half of Toastmasters year).
Who will be your trainers, keynote speakers? Ask other Toastmasters to recommend great speakers to you, reach out to experienced Toastmasters, and let them know your expectation.
What else are needed to make the training enjoyable, such as food, supplies, training materials?
How to get the word out? Do you need a flyer, online registration, where to promote the event? 
To get started with everything mentioned above, read this Toastmasters manual: Training Club Leaders.
Form a Team
There's simply too much to do and it's overwhelming to handle everything by yourself. You need a team, or partner with one more person to do the work.
I was very lucky to have Anita, VPPR from my home club, to step up as my co-organizer. Without her great efforts, I was going to be overwhelmed for sure. We sat together face-to face one hour a week, brainstormed everything that would make this event successful, split work and emailed/called during rest of the week to update each other.
If you are the main organizer, you will be the person who gives the team directions and inspires them to discuss, so you'd better know your business well. You'll still learn a lot of things along the way, but do some preparation at first. Have a clear idea on why/what you delegate to your team, check in with them often.
Put together a Good Show & Have Fun
Be thankful to the officers who take hours from their own lives to attend this training. Give them a great show by making the training meaningful and fun.
Invite inspiring and encouraging Toastmasters speakers and trainers, bring in new and refreshing training formats. Inspired by our friends at Toast of Petaluma, we gained great laughters from the audience by performing a DCP skit, and wrapped our training by a DCP rap with Cara.
The training event is not just about the training itself, it's also about socializing with other Toastmasters. Invite attendees to bring snacks for a potluck and let them connect with each other.
The Checklist
In the beginning, I can't find any training documents or checklist that got me started. Therefore, I documented my own process and share with you.
Here's a link to all my files in the shared Google Drive folder Toastmasters Officer Make-up Training Sample Files, feel free to make copies or download all the files.
In this folder:
After the event, remember to submit the officer attendee list, or forward them to someone who can submit for you.
Lastly, I want to give a special thank-you to Randie Ellington, who reminded me that "the good part is everybody wants to help, all you need to do is to ask."
Here are videos on our great keynote speech and DCP skit & rap, enjoy!
Keynote speech by Christine Robinson
DCP skit (Anita Renzetti, Yingying Zhang, Darlene Elko) + rap (Cara Wasden)