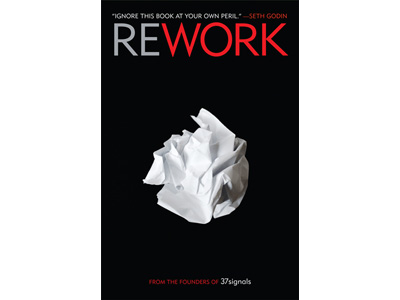 I think this is a great book to help a start-up-size company to be more creative, efficient and productive. I like the positive attitude towards product and services throughout the book – keep products simple and be speedy and genuine in business. A big portion of the book are pages of illustrations, some of them are really cute ~ They match the book style really well.
My favorite chapters from REWORK (following the order in the book):
Make a dent in the universe
Start making something
Start a business, not a startup
Embrace constraints
Ignore the details early on
Reasons to quit
Quick wins
Don't be a hero
Go to sleep
Don't confuse enthusiasm with priority
Build an audience
Nobody likes plastic flowers
Marketing is not a department
Own your bad news
Skip the rock stars
Don't scar on the first cut
Sound like you
Four-letter words
I also like product list at the end of the book – I think most people who finished the book would like to take a look at what 37 Signals did. This is also a good and appropriate marketing strategy for their products.
Of course, although this book is great, it's not perfect. This is a book that works for 37Signals (or maybe similar start-up style companies) but not every company. Some chapters have weak substances and so the theories look somewhat empty; And there's a little arrogant in tone when they talk about ignoring customer's advice or the conventional wisdom. I would say, well, this is just a collection of experience and advice from a particular company, and as always, we need to wisely filter what we learn.
In all, I really enjoyed this book and probably will start reading their another famous book Getting Real soon.