I was preparing for my biking road trip tomorrow, and planned to take 10 minutes to check my bike tires before shopping the supermarket this afternoon. However, I ended up spending A WHOLE HOUR on pumping air into one of the two tires.
I have a nice used Trek 820 mountain bike. It's a used, but with "wow" quality and very reasonable price. What made me even more excited was that it came with an air pump. Yes, I could buy an extra pump if there isn't, but wouldn't it be awesome to have an one? I was absolutely satisfied with it. Until my struggle with the air pump.
I walked into the garage and checked the tires. Hmm… the tire in the back just needed a bit more air, then everything was done then. Then I took off the mini pump from the bike, and start wondering how to pump… I am the third owner of this bike, so there is no user manual. I didn't bring my cell phone with me, so there was no Internet. I didn't want to go back upstairs and turn on my computer for search. Plus, I am the kind of person who likes to give it a try, so I just went ahead and started my endless trials.
The Air Pump
At the first sight, I like it. It's simply designed and feels comfortable. I imagined I would have a simple experience, too, but I was wrong. As a user who is used to the traditional Chinese air pump, I noticed the special part of the head first: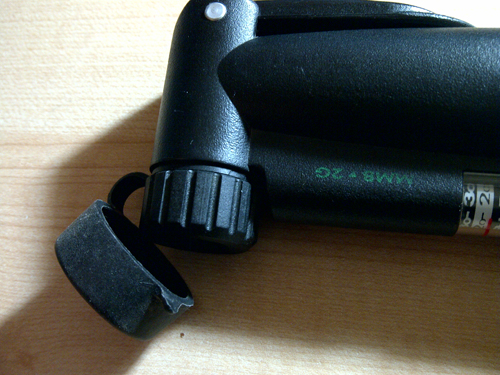 The Head
Hmm. I could rotate the head and take it off, so then I supposed I just loosen it, fit it to the valve and tighten it. Then I saw the handle, which obviously just needed to be changed to the other direction when I was ready for the valve, because every handle does the same thing if it looks like this.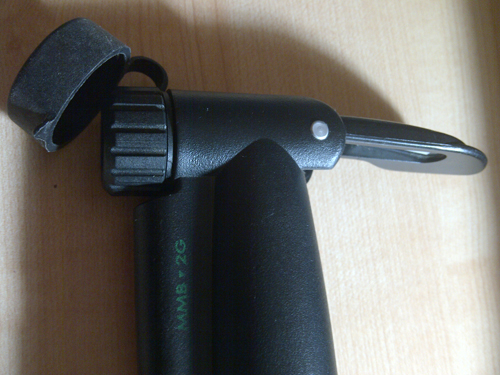 The Handle
And there is something like a air pressure meter (I still have no idea what's it for):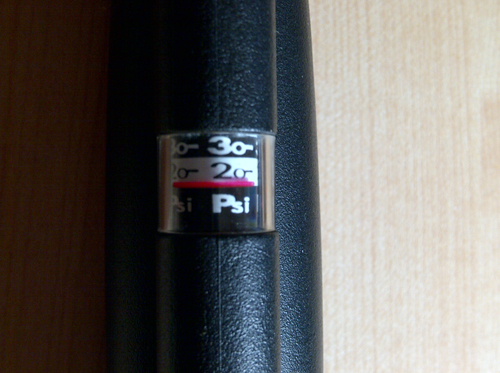 The Air Pressure Meter (?)
So… that's the beginning of nightmare. I could not pump any air into the tire with the following steps:
loosen the head
fit the head to valve
tighten the head
change handle direction
start pumping
It just didn't let me. The air pressure meter seemed warning me with too much pressure, so the pump automatically bounced away from the valve! Worse, the whole tire got flat now. What an experience!
After trials and trials, I finally found that I don't need loosen/tighten the head at all! I just needed to fit it to the valve and change the handle. When why you made it rotatable? Now half an hour passed.
"Ok now", I wondered, "finally I could make it work." Then I started pumping. Why, after pulling and pushing the barrel back and forth in a crazy frequency (3~4 per sec), I still could not just fill the tire full with air! Did I do anything wrong with the pumping process? Then I tried started over again.
Another ten more trials in vain. The tire went back flat again. I was tired, frustrated, hot, and my hands were having pain. I stopped and looked at the pump closely, and I found the end seemed not fit very well – it could be rotated too!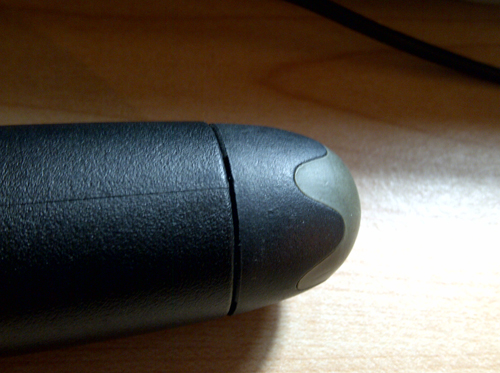 The

End
"OK!!" I shouted in my mind. "That's why I felt air coming in my hand when pumping!!" I rotated the end and took it off, and re-installed it to the right position.
Then I filled the tire in 2 minutes. That's it.
**
I am thinking about what challenge designers could eliminate for users when designing various products. Now as a User Experience Engineer, it's part of my job to simplify the designs while keep good functionality as much as possible. This is a process though, since we, designers, sometimes tend to hold our ideas like babies, and do not want to give up any. However, holding too much on unnecessary components may result in frustrated users like me. And worse, they would leave and go for other similar, but better, products.
**
I search Toppeak pump, the brand of this mini pump, and glad that they re-did the design for the pump, and got rid of both the rotation for head and end (picture below).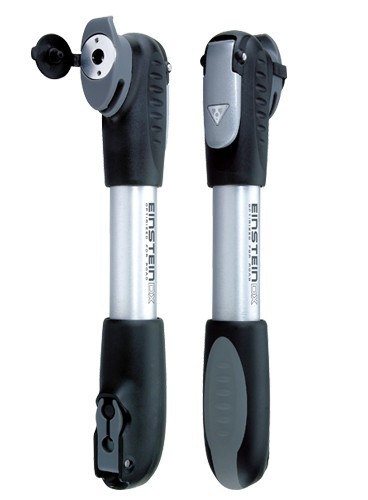 New Toppeak Mini Mountain
See, designs evolve over time, that's the most exciting thing I would love to see.