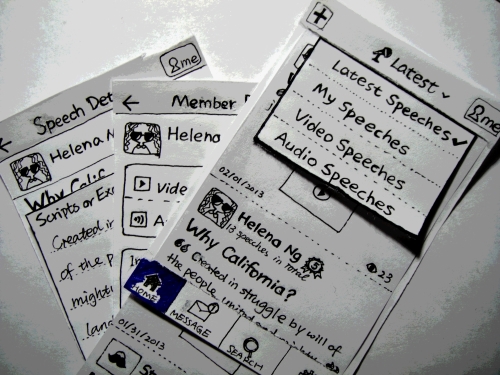 A few weeks ago, I did a web app prototype called "Better Speech" for my Coursera HCI class, now I am happy to announce that the "Better Speech" iPhone 4/4S app prototype is ready for testing! For those who don't know about "Better Speech", it is a platform for public speaking lovers/learners to help each other improve speaking skills.
Note: first, it's not working for iPhone 5 due to the screen size change… and my Axure prototype is not flexible enough to adapt to different screen sizes. iPhone 4 will give you the best experience. If you like to give it a try, please keep in mind that this is just a prototype, not a fully functional app; therefore, part of it is not working as expected (certain entries/buttons are not clickable or edited content cannot be saved) :( All the data in this prototype are fake (I made them up), but I made them as real as possible just to give you an idea about how it should work. I really love to make it real, but it's likely to stay like this before I find partners who value this idea or I can code for iPhone by myself.
To use this "app", Internet access is required (you will automatically contact to my web server, where the prototype is hosted). Some pages (or button reactions) may be slow depending on your Internet speed.
Here's a list of functionality that you can experience (and again, all the data are fake, so you will not be able to actually "save" or "send evaluations"):
Create a speech
Record video/audio speeches
View other member's (Try this member "Mary Hollen", others are not clickable) speech video/audio and scripts, and send evaluate direct to them
View your speeches, edit speech draft and complete a speech by doing a video/audio recording
View evaluations from other members
How to get it in your iPhone 4/4S:)
Add this page to your Home Screen and give it a name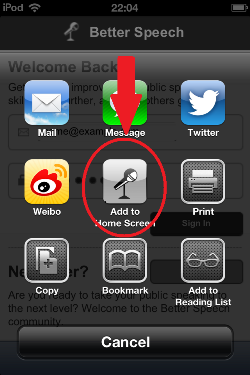 You are all set! Click the "App Home" (or any new name you give it) and check it out!
If you can spend a few minutes playing with it and let me know your thoughts, that will be a great help to me, thank you guys :)