Smart wearable devices like Google Glass, smart watches are hot topics today. I decided to catch the wave, and got myself a wearable fitness tracker: Fitbit Force.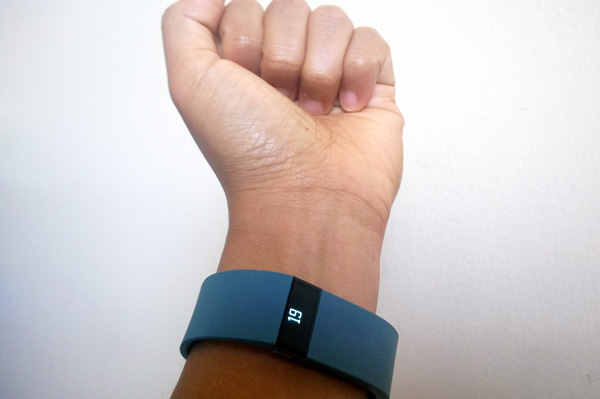 Fitbit Force tracks steps taken, stairs climbed, distance traveled, calories burned, active minutes, hours & quality of sleep. It displays time, and vibrates to wake you up when it's time to get up. It also syncs with newer iPhones, selected Android devices, Macs and PCs.
As a first-time user, I didn't know how much expectation I should have for a wearable like this. How smart is it to understand my activities? How good is it in calculating my calories? No idea.
I assumed it's smart enough to detect what activities I do (and calculate calories burned accordingly) and tell when I get to bed, get up by measuring heart rate… obviously I put too much pressure on it — it's not that smart yet. Fitbit is optimized for walking, running, general household and lifestyle activities, not EVERY activity. It's not as accurate for activities like biking, cycling and pushups, but will record steps if you wear your tracker. Fitbit has a dashboard that you can manually log your activities, and it will calculate related info for you.
Fitbit Force is rain-, splash-, and sweat-proof, but you cannot take it into a shower, or wear it while swimming. Another Fitbit product called Flex is absolutely water proof.
Sleep tracking is my favorite functionality. Yesterday before I closed my eyes for sleep, I pressed a button of Fitbit Force to enter sleep mode; when I got up, I pressed again to exit. It tracks my sleep, rollovers and other activities I did unconsciously during sleep and has a report ready for me: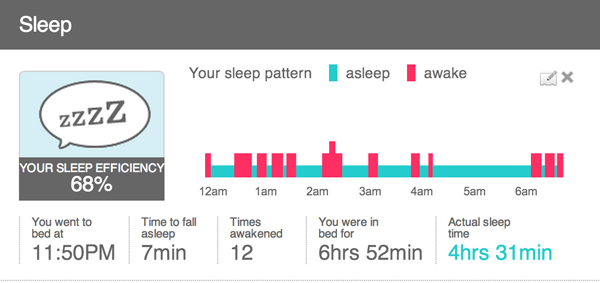 Overall, this is an interesting device, but it has a long way to go to be really "smart". If you fully use its functionality, it's a powerful tool to make you become more fit. Here's a review from CNET for those of you want to know more.