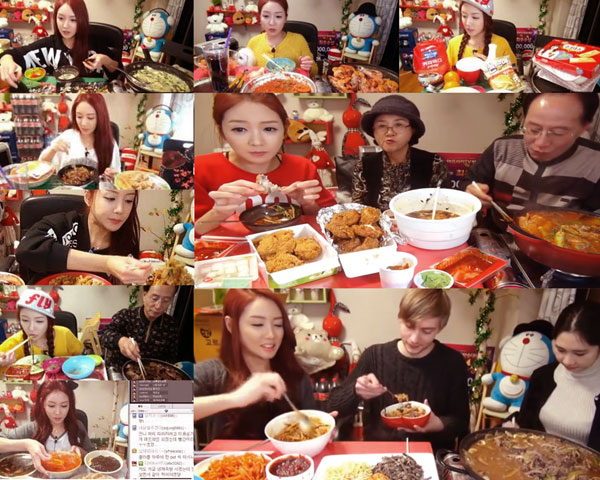 Ever thought about watching someone eating online to satisfy your appetite and reduce loneliness? Sounds bizarre, but online eating shows are HOT in South Korea.
"The Diva" is probably the most popular show — Park, the pretty hostess live streams herself devouring dinner every day. She is tiny but seems to have a stomach capacity of an elephant. She eats, chats and interacts with her fans for 4~6 hours every day. She makes a fortune from the show, and most of the money comes from her fans' donation. See more from CNN.
Wow, get people to pay for just watching a person eating! That's something. How has she attracted so many fans?
A little background: this is a fad in South Korea, it may not apply to people from other parts of the world. As more Koreans are getting into one-person households and mobilized lives, loneliness is increasing. And a lot of Koreans find it lonely to eat alone. (Background credit goes to CNN)
After browsing a few of Park's broadcast video archives on YouTube, I felt like wanting to enjoy my food more, although I've no idea about a single Korean word she said. Somehow there's an emotional connection between Park and me.
I guess here are some reasons:
I don't mind watching people eating online, because I love food. Some watchers thought it gross to eat like that — well, I don't care. I like people who enjoy food and eating. Park looks so happy with every bite, and this just makes those dishes look more delicious and enjoyable.
She always smiles or laughs during the show. The smiles lighted up my moody mood, especially after a long day. Who doesn't like a smiling face?
She looks exquisite and has lovely, charming manners. Hosting an eating show does not mean she has to look like a housewife. She obviously works hard on giving fans a fresh look every day.
She cleverly uses technology to interact with her fans, by showing everyone's interactions on screen, responding to their questions, talking about what they care. All these happen instantaneously, right there on the screen. For a fan, she is just like a friend.
In some shows, she invited her parents or friends to eat together. They eat like a normal family or a friend get-together, chatting, joking and laughing, just like more friends across the table.
In all, she has done a wonderful job in establishing emotional connection with those who like to see the show. And if this helps Koreans to happily fight against loneliness while she's having fun, then why not? Keep doing it :)
Hmm.. now I want to find something to chew, too. Anyone?