A couple of weeks ago, I came across a great article from a Chinese product manager on how to study Internet products. I found this fascinating, as I've been always looking for ways to improve myself and design better products.
He says:
Nobody can teach you how to design a better product, neither can a book, or an article. Only products can teach you. Be passionate about them, study them, invest your time, be perseverant. The only person that can really help you is yourself.
Here's what he suggests:
Download top 20 free apps from each of the 23 categories (except Games) from iPhone App Store, that's more than 400 apps.
Try each app, go over all the pages and capabilities. Take notes of everything that comes to my mind. If I spend 20 minutes on each one on average, it would be more than 200 hours. If I invest 10 hours every week, it will take me more than half a year to go over all of them.
During this time, I will form my own perspectives towards products. Then, I can write about my perspectives and communicate with others.
I decided to follow his advice and invest my time. I know this will help me do better in design.
On 3/21/2015, I downloaded 30 free apps from each of the 23 categories (except Games) from iPhone App Store, so that I can experience more of them. I did screenshots for rankings for Top Free, Top Paid as well as Top Grossing, so that I can analyze them from a conversion perspective.
I'm well aware that app ranks are changing all the time, and my analysis will be based on the time I downloaded them (3/21/2015). I update apps regularly, so that I can have the latest versions at the time of review.
Here are the apps I'm planning to review: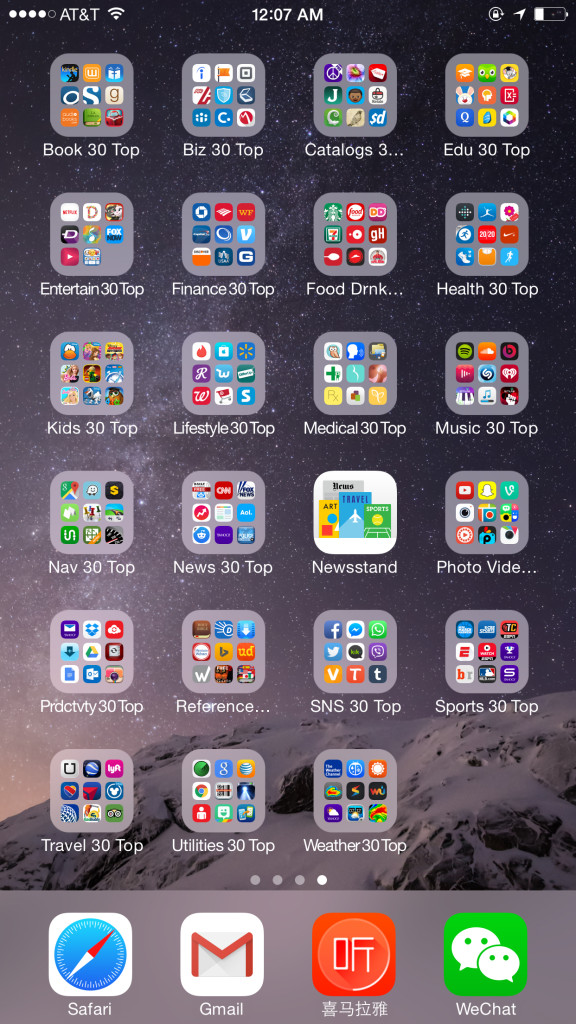 Below are links to my review notes (based on app ranking on 3/21/2015), I will update them as I finish each category:
Top Free 30 Apps under Books Category
Here's a short speech I did in my Toastmasters club, introducing this project to them: