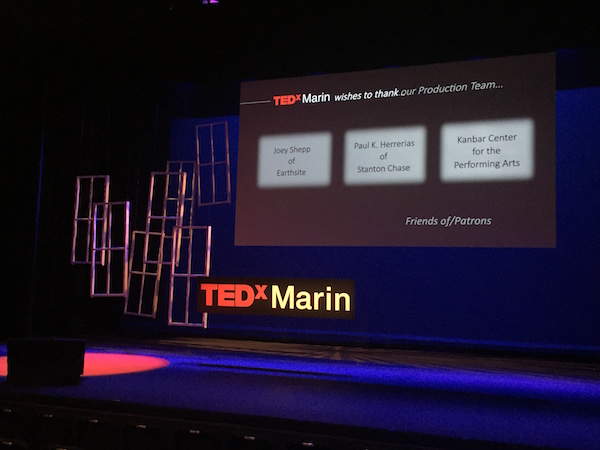 It's been a great day volunteering at TEDxMarin and having the luck listening to the awesome talks. You may have heard about TED talks, where people share ideas on technology, education, design that are worth spreading in the world. TEDx are similar, but locally organized events.
About two months ago, I signed up volunteering for TEDxMarin. I've been to this event a couple of years ago, and found the speakers very inspiring. This time, I wanted to experience this event from a different angle — what it takes to make a successful event: who are needed, what need to be considered and coordinated.
To keep TEDx a high quality production, there's a production team in charge of a variety of tasks, from speaker coaching, sound/tech, video editing, to website info updates, to venue design and culinary preparation. It requires incredible efforts to coordinate and educate a number of people to appropriate positions and get things done in the right way.
For a relatively small volunteer team like us, it's natural that each person needed to put on multiple hats, do different tasks, at different times. Therefore, the volunteer coordinator has to be crystal clear about who's at what position at what time, and communicated that, as well as any possible adjustments, clearly to volunteers. Maggie, our coordinator did a wonder job on this, and she has an amazing skill quickly matching each member's name with face. Of course, it's essential that each volunteer has a positive attitude and good flexibility about all the possible changes.
I've a part of several large student events at school, and this was my very first time volunteering for such a public event that has big impact. I really appreciate that every one of production team was so professional and concentrated on providing the audience an awesome experience. Very impressive.
I truly felt proud when I was finally able to sit down and enjoy the show, I saw my name coming up as part of the volunteers on the screen.