We were thrilled to snatch 2-day Sky Campground reservations at Point Reyes National Seashore, during early summer time (arguably one of the most popular times of the year). To make a campground reservation, visit the Point Reyes website for reservation and regulation info.
Day 1: Bear Valley Visitor Center + Historic Point Reyes Lifeboat Station
We arrived at Bear Valley Visitor Center to pick up our camping permit, around 3:30pm. I chatted with the ranger a bit, asking for trail recommendation. All of them were very nice and helpful. The famous Tomales Point Trail was one of the most popular trails in Point Reyes, of course, we would have to include it in this trip.
It was too early to set up camp at Sky Campground, since it's only 1.3 miles from the trailhead. Therefore, we decided to drive around a bit before dark.
I remembered that a few years ago around this time, maybe earlier, I spotted seals around the Lifeboat Station area, so I was eager to check if there were any. It took us 45 mins on winding roads and a short distance of walk to the station.
I was disappointed that no seals showed up. Well, it was kind of late for the pupping season anyway. We did find something interesting, however. Apparently, a group of people were staying in the lifeboat station building. Maybe for some kind of training. Their pants were hung for dry on the fence, and I noticed a Starbucks coffee bag on the kitchen table, by peeking through the window.
The tracks where the boat came out were totally rusty. Long time not in use.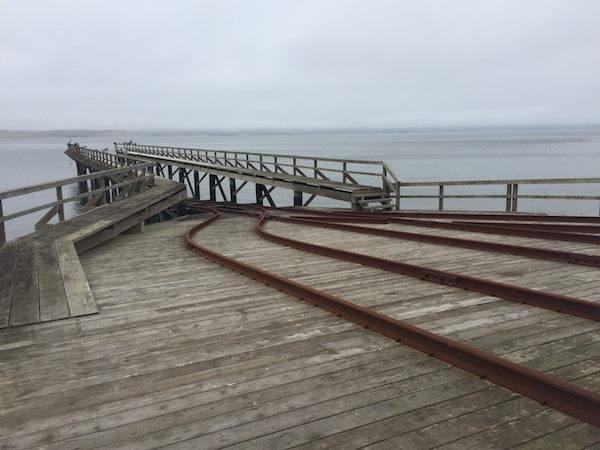 Without much exciting findings, we got back to Sky Campground Trailhead. It was a very small parking lot fitting about 10 cars. People used roadsides as overflow parking.
We got our backpacks, hiked in pretty casual pace to our Campsite 4. It took us about 40 minutes for 1.3 miles. The sun was shining as we hiked, however, not long after we settled in our campsite, it ran behind thick clouds and fog poured in. By 8pm, visibility reduced to probably 100-150 feet and air became chilly.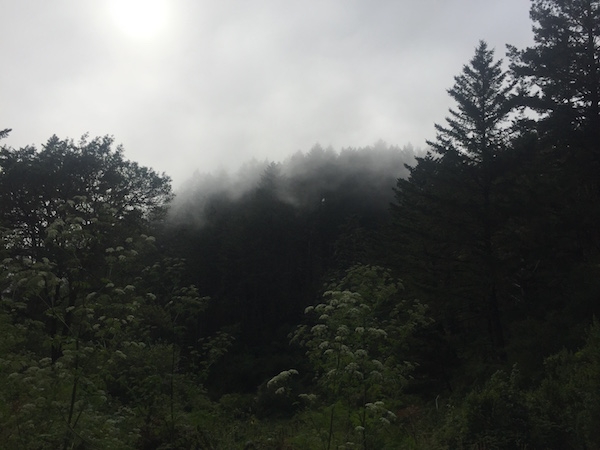 We pitched our tent under a big tree. We would normally think that's a good choice — well, not in foggy weather. Apparently, the tree got much fog and turned it into rain drops. While rain drops dripping onto the tent sounded like music, we woke up a few times noticing the ground around was almost soaked. We hid our backpacks under the tent rain fly, but they both got dirty.
Day 2: Tomales Point Trail + Partial Sky Trail
We climbed out the tent in the morning and found it got dead dirty. This would be a big headache if we were to backpack. Luckily, we were only to day hike Tomales Point Trail, so we moved the tent far from the tree and let dry.
It took us about 30 mins to get to Tomales Point Trailhead — we arrived around 9:30am. The parking lot was already pretty full. I was surprised that people got here so early, because it took anywhere from 1.5 hours to 3 hours' driving from inline areas. They must be dedicated to hike this trail.
Overall, this trail was pretty flat with occasional ups and downs. We were lucky that it was mostly cloudy except on the Tomales Point, so we didn't sweat much.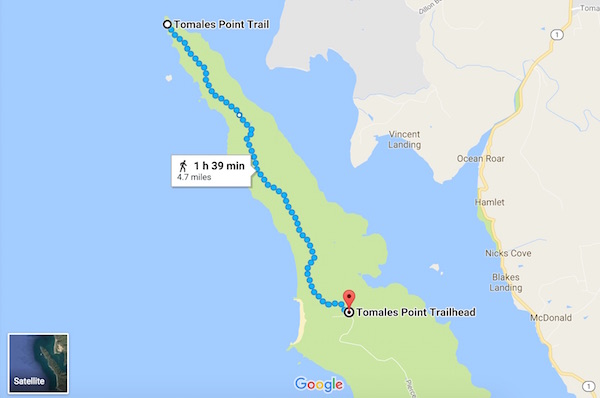 Elks were quietly eating.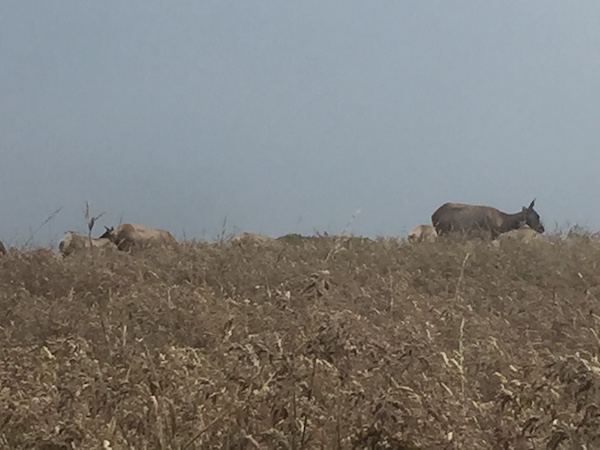 Wild flowers were blooming in the breezes.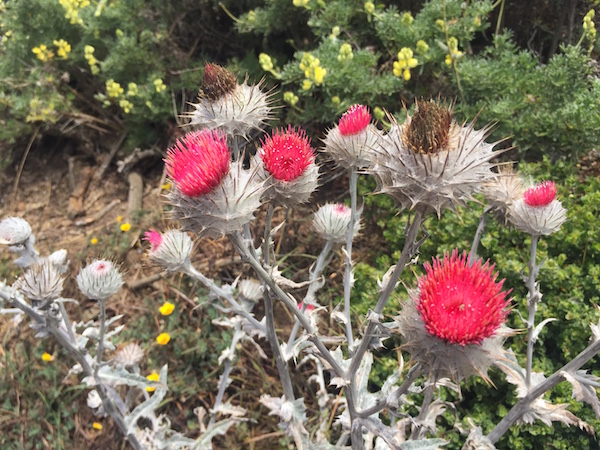 The sky lit up around noon as we hiked towards the Point.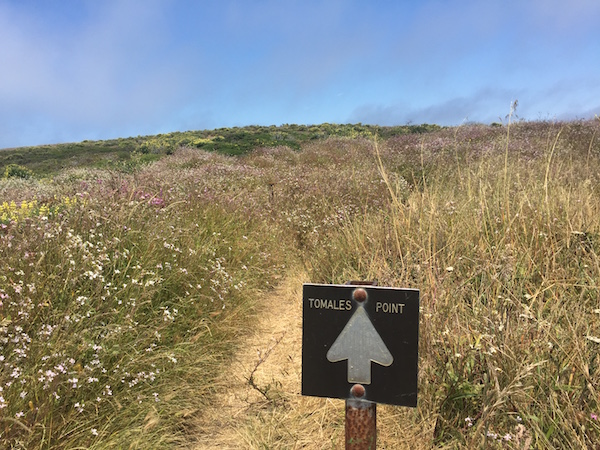 We reached the Point, relaxed and munched on snacks, as we looked and listened to the ocean.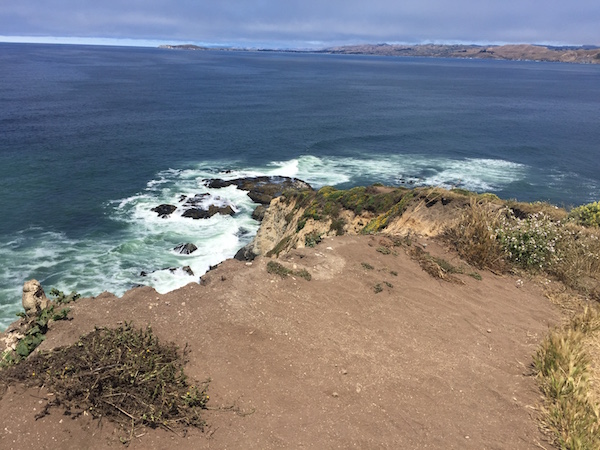 The 9.5-mile hike (out & back) took us 4 hours and 46 mins. I was glad that we were able to make this splendid hike.
We got back to our campsite before 5pm. We spent some time to rest our feet quietly on the bench. They contributed so much in this long hiking day.
In early evening, fog poured in again. We pitched our tent far from tree, stuffing everything including our backpacks into the food storage locker, hoping for a dry night.
Day 3: Sky Campground -> Coast Trail -> Woodward Valley Trail -> Sky Trailhead
We woke up around close to 8am, much later than I anticipated but well, body needed longer rest after a long day. We finished up breakfast and packed everything into our backpacks, and off we went to the Sky Trail.
We planned to hike a loop: started from Sky Campground to Coast Trail, to Woodward Valley Trail, then back to the campground again and ended up at the Sky Trailhead.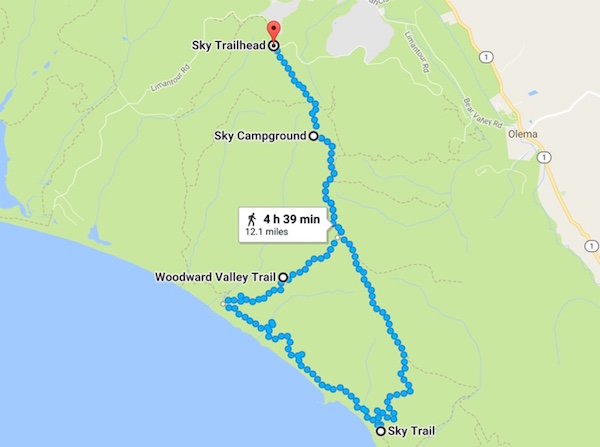 It was 4.4 miles from Sky Campground to Coast Trail. Everything was unbelievably beautiful in mist, overflowing with greenness.
We were so small in this big world.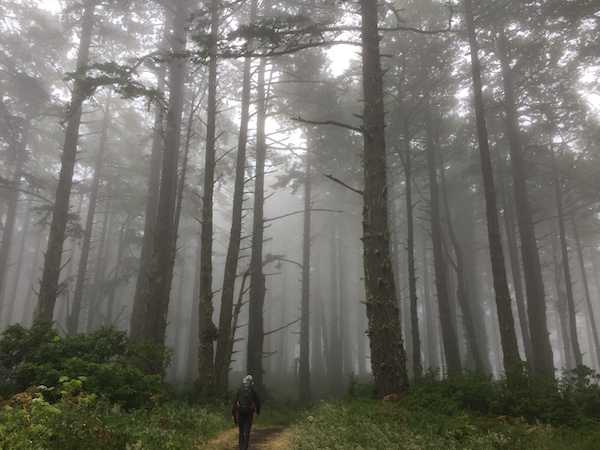 Everything's so green.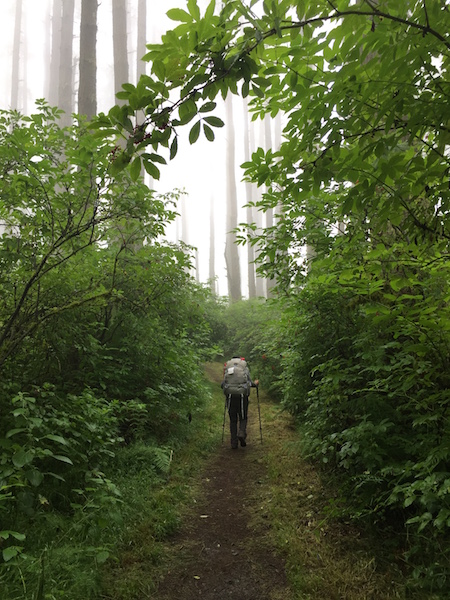 A berry!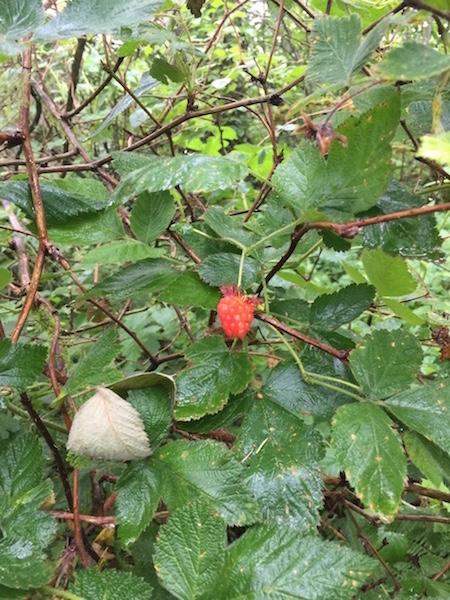 To get through, you need to get through some really high grass and bushes. I recommend wearing long pants. Waterproof would be the best, because you are guaranteed to be wet brushing through the plants soaked with overnight fog.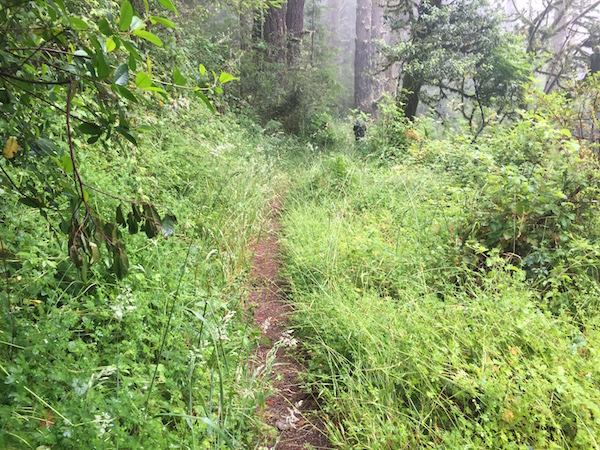 I found a big banana slug!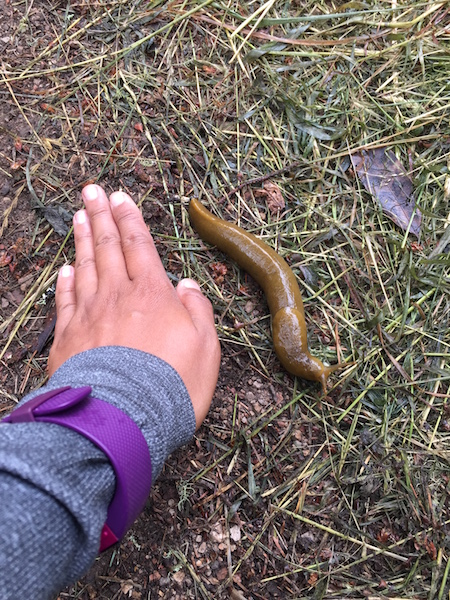 It was 3 miles from Coast Trail to Woodward Valley Trail. Gorgeous view of the ocean, with eagles flying over our heads. It almost had no cover or shades, and would be miserable to hike it on a bright sunny day.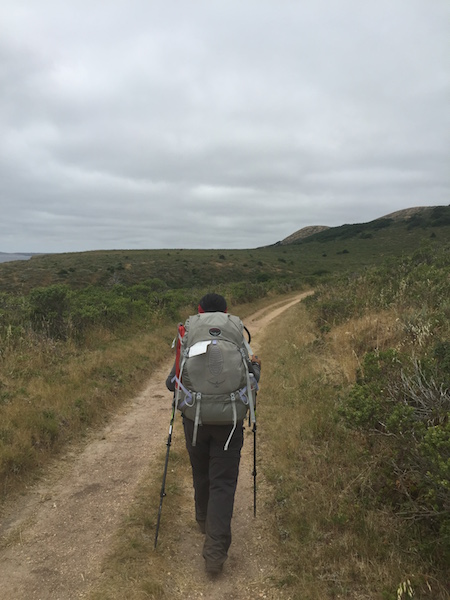 We had to rest and recharge our feet on the Woodward Valley Trail. Hiking 8 miles with no rest was too brutal for our feet.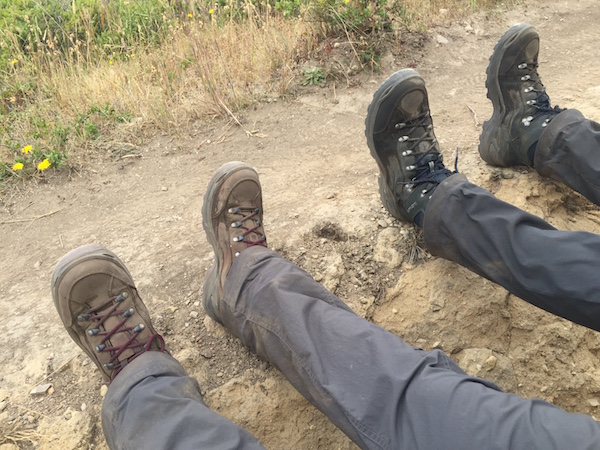 It was 2 miles from Woodward Valley Trail back to Sky Trail. We managed to finish it within 50 mins with our refreshed feet. My feet started hurting again on Sky Trail.
For the last 2.6 miles of Sky Trail, we got back to the campground again, spending about 10 mins resting our feet and then hit on the trails again. We were so excited to hop into the car and got our way home.
The 12-mile hike took us 6 hours 6 mins.