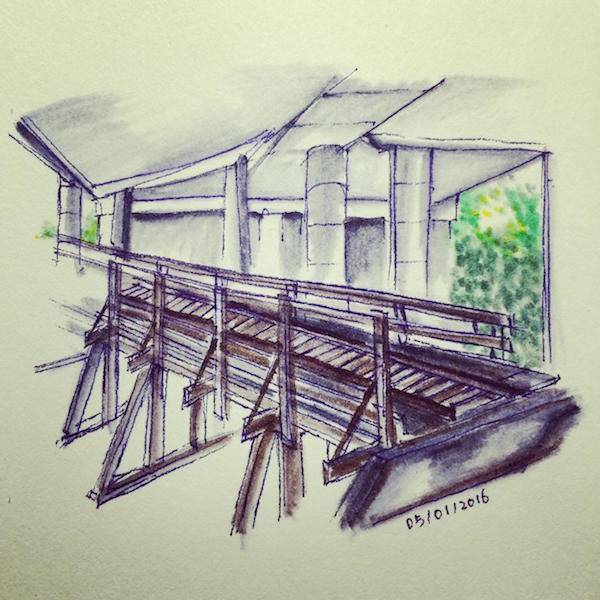 There's a nice 3-mile walk between Larkspur and San Rafael, in Marin County. We walked through a newly established bicycle and pedestrian tunnel, and came across an apparently abandoned railroad portion. It looked worn out but still in place. It belongs to the Northwest Pacific Railroad, which was operated in the early 20th century. Very soon, it will be rebuilt for a SMART commuter train connecting Sonoma County and Marin County. Hopefully, this will probably improve the traffic situation and bring more jobs to both counties.
I appreciate the effort of bringing more public transportation. After I came to the US, I found it really hard to go around without a car. I still remember the day I made up my mind to buy a car: at the time, I was in school close to downtown Los Angeles and needed to travel to an interview site by the seaside. My friend kindly drove me to the site. It took about 20 minutes. After the interview, it took me three buses and three hours to get back. I was so angry about all those time wasted, so I decided to buy a car.
Others probably think the same: since there's no good public transportation, I'll just drive. Well, that's probably one of the reasons why Los Angeles always has tons of cars and traffic jams.
However, situations aren't better in San Francisco, where you have a fairly good public transportation system, with Bart, Caltrain, Muni, Amtrak and others. Even the public commuting methods are heavily used, traffic jams are still common — people have to sit in cars for hours to get to destinations.
There are likely to be many reasons why this happens. The thing is, the current transportation system (buses, freeway, etc) planned and implemented years ago is falling behind. It's reaching its capacity. Or can I say, when the system was planned, nobody expected the traffic situation can have significant changes AFTER the system was implemented? If so, with technology so much more developed these days, would there be a way to help with this at all?