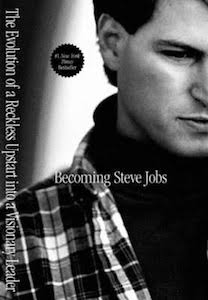 "Becoming Steve Jobs" is a great book. As the authors Rick Tetzeli and Brent Schlender say, this is a growth story about Steve Jobs — how he grew from a two-person team to managing a company that has thousands of employees. There are a lot of books and articles depicting him as a complete genius and at the same time, a complete jerk. From this book, I saw his soft side, his care about his employees, friends, as well as his and others' families.
I like the book title. It reflects the journey of How Steve Jobs and Apple became the way they were. He had great qualities that each of us can learn from:
He had a great intensity of confidence. He had a get-things-done attitude even with limited experience. He was very eager to learn and if there's anything he cared about, he cared about it relentlessly.
No one doubts that he's a genius in envisioning products. He never saw the end of possibilities, and so he had pushed engineers to work crazy hours to achieve his blueprints. Over the time, he learned to grow from a dreamer to be a visionary, someone who didn't just have ideas, but can turn those into reality and change the world.
He strived to tell compelling stories for Apple products, so the consumers understood what they can benefit from those products. He loved showing the business, the marketing. He rehearsed endlessly.
He was really good at surrounding himself by good and smart people. He listened to them. He liked to be pushed back, and yes, can be persuaded if that person had very compelling reasons.
He believed that the past was a lesson, but the past was gone. He always looked for what's next. He always asked: "What can we do to move forward."
A doodle to remember Steve: